Kendrick Lamar, Future, Danny Brown and Hopsin Set to Perform at XXL Magazine's SXSW Showcase Tonight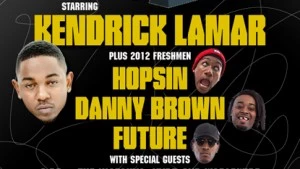 XXL magazine will both celebrate the release of the April 2012 Freshmen cover and kick off the Monster Energy Outbreak Tour Presents the XXL Freshmen Live series tonight (March 13) at this year's South by Southwest (SXSW) Music Conference and Festival. The special showcase at Austin, Texas's Transmission Warehouse kicks off at 8 p.m. and features 2011 Freshman Kendrick Lamar as headliner, while 2012 Freshmen Future, Danny Brown and Hopsin will also perform.
Kendrick has enjoyed a momentum-building year since the 2011 cover was revealed. The Top Dawg Entertainment rapper dropped his critically acclaimed project Section.80 in July, which included the J. Cole-produced single "HiiiPoWer." The release earned high praise from fans, critics and fellow artists, including Drake, who tapped K. Dot for a guest verse on his album Take Care and then brought him along as a performer for the nationwide Club Paradise Tour. The Compton native is now working on a follow up to Section.80, due out later this year.
This year's Freshmen are positioning themselves for a similarly successful year in the wake of their cover appearance. Future, an Atlanta native, has already made his presence felt on the Billboard charts thanks to singles like "Tony Montana" and "Magic," and he's getting ready to release his Epic Records debut, Pluto, in April. Bred in another hip-hop hotbed, Detroit's Danny Brown became a name to watch in 2011 thanks to Black and Brown and XXX, two projects that displayed his lyricism and unique style. Hopsin is another newbie with a diverse set of skills; the California native directs all of his own videos, which have gained millions of views on YouTube. He is prepping his album Knock Madness for a 2012 release.
The Monster Energy Outbreak Tour Presents the XXL Freshmen Live series will continue to Los Angeles, San Francisco, Atlanta and New York after the SXSW kickoff. For more information on shows or tickets, visit xxlmag.com/2012-freshman-tour.