Game Announces Next Album Will Be Called F.I.V.E.: Fear Is Victory's Evolution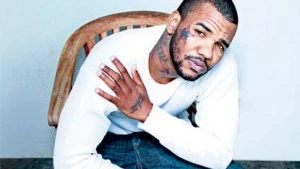 Game is still riding the wave of his latest album, The R.E.D. Album, as he's getting ready to drop a video for the Kendrick Lamar-assisted "The City." Even so, he's prepping a new mixtape for later this month, and already has his sights set on his next album, which he told XXLMag.com will be called F.I.V.E.: Fear Is Victory's Evolution.
"The meaning behind that is like—me as a rapper, you as a journalist, Kobe as a basketball player—you gotta be afraid to do something, or have those butterflies in your stomach," he explained about the title. "We all get that feeling. Before you did your first interview, you probably was like, 'Damn, I don't want to ask the wrong questions. I want to do this right.' Me, before I wrote my first rap, or the first time I was in the booth. Fear. But then fear is victory's evolution. After a while, you become a dope journalist, I become a dope rapper, Kobe is Kobe. You achieve and you pass over that fear. Now it ain't fear; it's just victory. It's victory of all."
"I'm gonna always come with a dope concept," he continued. "That's word to my nigga Nas. I'm a huge fan of Nas, now he's like my brother in this shit. I'ma always try to keep my albums consistently tied into some kind of concept."
In addition to the meaning of the acronym, the title also represents the number album this is for Game, being the rapper's fifth solo album. As such, he will fulfill his contractual obligations to Interscope. Whether or not he re-ups and remains there, or heads to a different label, however, is still up in the air.
"Jimmy Iovine is, shit, probably weeks out from opening the budget for my fifth album," the Compton native said. "And then once I do this F.I.V.E. album, it might be a wrap. We'll see. I know somebody going to give me some millions before I do anything. I see myself getting a lot of money to carry out the remaining time in my career. It don't really matter where it's at—it's just the imprint on the back of the album."
Even with a title and the budget potentially opening up, Game—whose The R.E.D. Album was delayed a number of times over multiple years—was less than eager to suggest a possible release date.
"I'm just hoping that I live another day to record," he said. "I'm not giving nobody no dates. Fuck all that. It's gonna come out when it come out. See y'all then." —Adam Fleischer