Nicki Minaj Speaks On Grammy Performance, While Lil Kim Reacts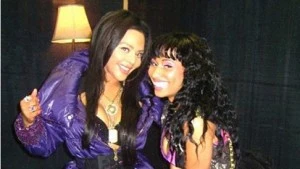 Despite the controversy surrounding her recent Grammy performance, Nicki Minaj has far more pressing issues to address.
During her appearance on ABC's "Good Morning America" yesterday (February 15) the YMCMB rapstress—alongside fellow spokesman Ricky Martin— spoke on her latest partnership with M.A.C Cosmetics that is set to raise awareness on the fight against HIV/AIDS. As the newest spokeswoman for M.A.C AIDS Fund VIVA GLAM campaign—which has raised about $236 million— Nicki, revealed how much of a personal connection she has to the campaign due to her uncle passing away from AIDS in her homeland of Trinidad.
The Young Money diva also had a chance to discuss her infamous Grammy performance telling ABC's Robin Roberts that, "First of all I created these characters Martha and Roman over two years ago and I never had a format to really put them in front of the world so, when I was at the Grammys I said 'You know what, this is a great way to show who Roman is.'"
"I wrote the song and envisioned it being in a monastery because Roman gets shipped away [there] by his mother who thinks there's something wrong with him and in fact there's nothing wrong with him being different…being eccentric. I wanted to show how ridiculous people look when they try to change someone just because they're creative [and] different."
In other news, Nicki's foe Lil Kim stopped by Bravo TV's Watch What Happens Live show last night where she was asked about Minaj's Grammy performance responding with, "I'm pretty sure I feel the way everybody else feels right now." It didn't stop there however, the Queen Bee also gave her thoughts on Nicki's "Stupid Hoe" record, which is supposedly aimed at the Brooklyn femcee. "If you have to make a song called 'Stupid Hoe,'" Kim said, "you must be a 'Stupid Hoe.'"
As of press time, the two femcees have recently released their latest singles, with Kim's "If You Love Me" and Nicki's "Starships."—Ralph Bristout