Swizz Beatz Not CEO of MegaUpload, Still Considering Position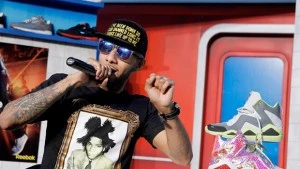 Despite previous reports, it appears Swizz Beatz is actually not the CEO of Megaupload, the file-sharing website that was shut down by the Federal Government last week.
A source close to Swizz told MTV News that the rapper/producer isn't yet officially attached to the site although he is still interested in being involved. "He's not walking away from this," the source said.
While Swizzy was listed as the company's CEO on the website's "About Us" page before it was shut down, the source said "they put that up prematurely," adding that although Swizz was in negotiations to run the company, the ink on the deal wasn't dry yet.
On Thursday (January 19), the feds shut down the site, arresting several members of the company, including founder Kim Schmitz, and serving them with multiple racketeering and copyright infringement charges. A federal indictment alleges that the site has generated more than $175 million in criminal proceeds from pirated movies, albums and other material, all crimes that allegedly pre-date Swizz's participation with the site.
Swizz, who became involved with the company over that last few months, was given a take down notice by Universal Music Group on January 18 for his "Mega Song," a promotional video for Megaupload which features Diddy, Kanye West and will.i.am, among other artists. According to the source, the clip was just one of a number of efforts Swizz and the company explored to get "music to consumers."
And, the source adds, after the legal matter is resolved, it is still possible Swizz Beatz will officially join the team at Megaupload. —Gina Montana