50 Cent Discusses President Obama, Street King on CNN's Piers Morgan Tonight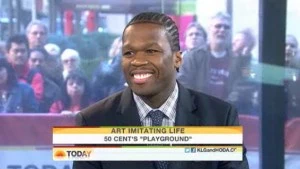 50 Cent was the guest on last night's (October 31) Piers Morgan Tonight show on CNN and the Queens-bred rapper discussed politics, his charity work, family life and more during the half hour interview.
Morgan kicked off the Q&A by asking 50 how he's holding up during the recession, to which 50 responded, "I'm doing pretty good, I'm comfortable. Now I'm trying to create ventures and projects where I'm actually giving back."
50 talked about his family life, losing his mother at the age of eight and never meeting his father, being raised by his grandparents and launching his drug-dealing career at the tender age of 12. He also went in depth about the day he was shot nine times, still having fragments in his tongue from the assault and having a new voice as a result of it.
He added that although he was in the street game, he never actually did drugs. "It was either take ten dollars or five dollars you spent on buying weed to smoke it or put it in your pocket," he rationalized.
Fif said he always had "an entrepreneurial spirit," even when he was dealing drugs and that he tells those that want to street hustle that "it's the right idea with the wrong direction."
50 then switched gears and talked about politics, saying that, like most African Americans, he was excited when President Obama was elected President, although he wasn't sure if America was ready for a Black President. He also said that Obama "inherited America in a terrible state, so it's pretty tough to get things back in order."
Additionally, 50 Cent touched on his charity work, specifically Street King and his 15-year-old son, Marcus, being his No. 1 motivation to go legit. "He's a better version of me," he said about him. "We have some of the same mannerisms. He's competitive, he plays high school football… he was there was I was shot. He was in the house, he heard it, although he didn't know what was going on. But he saw the aftermath."
You can catch the rest of the interview right here, on XXLMag.com.—Gina Montana