Busta Rhymes to Executive Produce N.O.R.E.'s Super Thug Album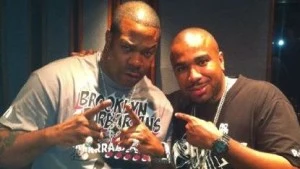 N.O.R.E. is definitely making his rounds in the streets and on the Interwebs again. He says the video for his single "Finito" (featuring Lil Wayne and Pharrell Williams) is finally done and his records with Macy Gray ("Electrolytes") and Cory Gunz ("Slime Father") has also garnered him praise from his fans and peers. But the Queens native isn't just content with the buzz he's getting. N.O. is also looking to spread that shine to his roster of artists on his Militainment imprint.
The starting point is a group called 5ive7 which consists of himself, Al Joseph aka 8bed, Fahyed illegal Fah, and SHO aka Shobalotti. This is the first group effort Nore will be putting out since retiring from CNN.
"I'm doing Milliainment and being in the business of Millitainment regardless this year," Nore said earlier this week on the phone from Miami. "I'm breaking artists this year. I refuse to be hot this year without being hot next to a artist that I put on.
Also in his camp is a female named Glacierz DeVille and N.O. has been talking to Peedie Crakk about getting down under the umbrella as well.
Nore knows exactly how invaluable the ear and inspiration of a peer who is your friend can be. N.O. and Busta Rhymes recently formed a partnership and Bus will be executive producing Nore's upcoming Super Thug album.
"Busta's been a guy who has been in my corner for quite some time," Nore explained. "This whole comeback, he's been behind it. He believed in it before anybody. He wanted to help quarterback the situation. I knew I wouldn't be in New York all the time and I needed a person who would help carry my flag wherever they go and vice versa. Busta was campaigning my shit. He was hearing my records and wondering why the fuck I was sitting around and waiting. What better advice can I get from someone that's already my friend?
"He's executive producer, but I'm doing me," Nore added with his trademark sense of humor. "It's important for it to be a Nore album. It's important that it be the album people are waiting for, the Super Thug album. I had to tell Bus 'I am Nore.' Bus believes in jumping on everybody's record and jumping on the remixes and busting everybody's ass on their own record. His tactic works because he's Bussa Bus! But the minute I think I'm Bussa Buss, I'mma fuck up. I know I ain't Bussa Buss. I ain't speed rappin'."
Nore doesn't have a release date for the Super Thug LP but he has four more Pharrell Williams tracks in the stash and is scheduled to go in the lab with Timbaland soon. —Shaheem Reid