Fat Joe Chats About 'Big Pun Back,' Remy Ma, Losing Weight & New Music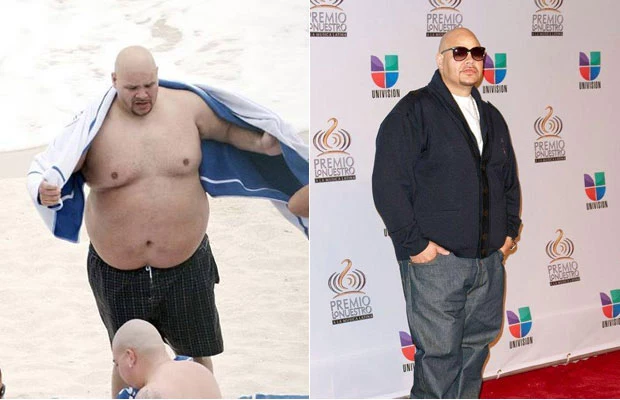 On a lighter note — let's talk about your weight loss. You look amazing!
Thank you. What happened was like seven of my friends passed away last year [and they] all died of heart attacks. They were all like my size and even younger than me. So, I was at my friend's funeral and I seen his daughter. His daughter is my daughter's age and I was just sitting there like, 'Fuck that. This cant be me. I gotta get healthy.' And, I ain't do nothing nobody tells you to do. You just gotta want to do it — you gotta feel like it's life or death and go to war with the food.
What's your diet like?
So like, with me, I just really eat carbs in the morning — bread with turkey bacon and fucking egg whites — and then the rest of my meals I don't eat carbs. That's good. I work out everyday, I work out like a mutherfucka. I'm sore now.
What do you do at the gym?
Everything. I do cardio. [I] start off half an hour cardio, then we start lifting all types of weights, then we go back and finish it off with half an hour of cardio. Like, this right here, this shit you see Fat Joe? This ain't even nothing. This is just the beginning. Everybody looking at me like, 'Oh shit, Joe, you look great.' But, they not even realizing, this isn't it. We half way there.
Ultimately, what's your goal?
All I wanna do is inspire people and let them know, you know Fat Joe your whole life, and he's been fat your whole life. And if he can exercise and eat the right shit and lose weight, you can do it, too. I'm not special. I'm not no superhero. I'm not super human. I'm just a regular nigga just showing you that if you really wanna get healthy, you can eat the right shit and work out.
Recently, rapper Joell Ortiz got some backlash for his"Big Pun Back" track. What are your thoughts on the song?
I thought it was incredible. I thought it was great. I never seen a guy in my fucking life get backlash for fucking biggin' up somebody. See, what happened is Big Pun was surrounded by an enormous amounts of idiots. And, sad to say, as big of a genius he was, and beautiful as he was, and I'm not just saying that cause he dead, cause he was the most loyal, beautiful person… He's my brother. I worship him to death… But, it's unfortunate he was surrounded by a bunch of fucking idiots. Nincompoops. You got a younger Spanish dude who's hot in the streets and he wants to honor Big Pun and you throw slander at him and you disrespect him for fucking only honoring Pun? How do expect anybody else to honor Big Pun?! Or talk about him in a good way?!
This is the shit, I hope people can open their eyes and see the shit that Fat Joe has been dealing with for the last 12 years. It's fucking idiotic. It's fucking lunacy at it's finest. 'I don't think you should've bigged up Pun.' Like, what the fuck are you talking about? He's honoring Big Pun, showing respect to Big Pun. What's the problem? We can't do that? We're honoring the one fucking Spanish nigga that wants to step up and say, 'Guess what? Man, I love Big Pun. Big Pun's Back.' Like, where'st he disrespect? I never seen shit like this in my life. Amazing, man. I think I got more upset than Joell Ortiz did, but I know the type of people he's dealing with. You gotta understand I been dealing with some real fucking shady niggas, man. Everybody look at me like, 'I think Joe is fucked up.' But, people don't understand the type of shit I had to deal with with these people. Like, just think about it. The nigga bigged up Big Pun. He's getting hot, he's doing his freestyles, he's a member of a dope new group, he's Puerto Rican, he wants to big up his idol. And you attack him? 'Yo, don't big him up.' What kinda shit is that? Like, I'm trying to figure out who thought they were right.
I'm sure you heard about the video with Cuban Link, Peedi Crakk and Tony Sunshine speaking about their displeasure with the track...
Nah, I didn't see the video cause I really don't tune in to these niggas. Like, who are these niggas? To be honest with you, they aren't even relevant. I just hear the gossip niggas tell me, like this nigga said.. I was like, what? There you go. That's why niggas can't do the tribute to Pun, all proceeds to his kids. Niggas cant do the VH1 Honors, cause these niggas are straight scums of the Earth. Straight scumbags. Like I said, Big Pun, as beautiful as he was, as an angel of a guy, cause he's an angel.. Big Pun would take a crackhead off the streets and give him chicken at his house and rice and beans in one second. He was a great dude and a great father. But, it's sad that he was surrounded by so many fucking bad people. For real, it's crazy.