Nate Dogg's Funeral Set for Saturday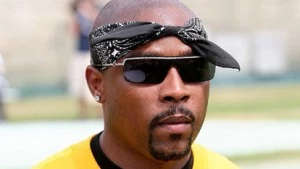 Legendary hip-hop crooner Nate Dogg will be honored with a funeral service tomorrow (March 26) in his hometown of Long Beach, CA.
According to myfoxla.com, the public event will take place at the Queen Mary Dome but only 1,000 people will be allowed to attend. Free tickets are being made available on a first-come, first-served basis to people who call (562) 570-6147 before 3 p.m. PST today, or until the tickets run out.
As previously reported, Nate had passed away last Tuesday after succumbing to complications stemming from multiple strokes that he suffered from in 2007 and 2008.
Nate, who had recorded an abundance of chart topping singles with Snoop Dogg, Dr. Dre, Tupac, Eminem, Warren G and Ludacris, among others, was memorialized by the hip-hop nation on Twitter. "We lost a true legend n hip hop n rnb," longtime collaborator Snoop Dogg wrote on his account. —Elan Mancini