Nate Dogg's Cause of Death Explained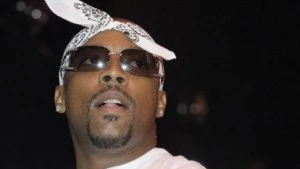 News quickly spread today (March 16) that iconic hip-hop singer Nate Dogg, 41, had passed on Tuesday morning, but early reports where not certain of the cause of the West Coast artist's death. The Associated Press spoke to his attorney, who revealed the reasoning behind the premature demise of the rap crooner, born Nathaniel D. Hale.
According to his lawyer, Mark Geragos, Nate had succumbed to complications stemming from multiple strokes that he suffered from in 2007 and 2008.
Manager and friend, Rod McGrew, told TMZ that despite Hale's ongoing health problems, he was making strides in his recovery and his death was unexpected.
Nate, who had recorded an abundance of chart topping singles with Snoop Dogg, Dr. Dre, Tupac, Eminem, Warren G and Ludacris, among others, was memorialized by the hip-hop nation on Twitter. "We lost a true legend n hip hop n rnb," longtime collaborator Snoop Dogg wrote on his account. "One of my best friends n a brother to me since 1986 when I was a sophomore at poly high where we met," Snoop Dogg tweeted Tuesday night.
"We appreciate the enormous outpouring of response from all over the world," McGrew said in a statement. We greatly appreciate that and thank everyone for their prayers and support."
As of press time, plans for Nate Dogg's funeral service are unknown.
Stay tuned to XXLMag.com as more information becomes available. —Elan Mancini