Nelly Breaks Down His Greatest Hits Song By Song x Gallery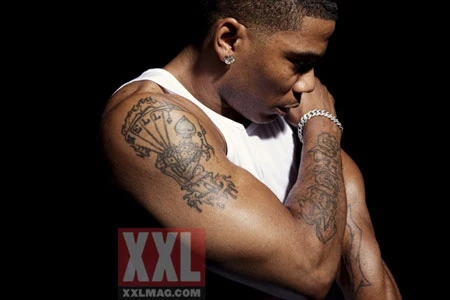 Despite a blatant explanation of the meaning of "pimp juice" in the song's lyrics ("Now your pimp juice is anything that attracts the opposite sex/It could be money, fame, and straight intellect"), Najee Ali, leader of Project Islamic H.O.P.E called for a boycott of Nelly over the 2003 song which he and his followers felt glorified prostitution.
"If you listen to the song, it explains it. Pimp Juice is anything that basically helps you to get [something] done, what it is you need to get done. For women it might be their swagger. For a man it may be their job or it may be whatever they're doing. So that's what it was. That's the first time I heard somebody really had a problem with 'Pimp Juice.' Now 'Tip Drill' on the other hand, now that was a whole 'nother story [laughs]."
"E.I. (Tip Drill Remix)" feat. St. Lunatics

When Nelly set out to shoot a video for his "E.I. (Tip Drill Remix)" for Da Derrty Versions: The Reinvention, all he knew was that he wanted it to be fun and that's exactly what he got. In the pre-YouTube days, "Tip Drill" had everyone staying up late to catch the sensational video air on BET's uncensored late-night video show, Uncut. The fun-loving MC got more than he bargained for when students on the campus of Atlanta's all-women's HBCU Spelman College called for a boycott of Nelly's music and an upcoming campus appearance at a bone marrow drive for his foundation Jes Us 4 Jackie. Female students were outraged at the misogynistic images of women that were portrayed in the racy video. Nelly brushed off the controversy in typical fashion.
"David Banner came in with that beat when I was doin' the remix and that muthafucka was nice!"