Can Canibus Still Bust It? – A Few Good Bars From His New LP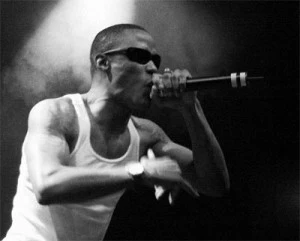 More than a decade before Drake took hip-hop by storm in 2009, even before 50 Cent strongarmed the hip-hop game back in 2002, Canibus was that dude. The year was 1997, and 'Bis, an enigmatic punchline machine backed by Wyclef, was ripping ears to shreds through vicious freestyles and killer guest appearances (revisit Lost Boyz's "Beasts from the East" for proof of the latter). Then came the scathing LL Cool J diss record "Second Round Knockout," which solidified Canibus as a true iconoclast on the mic.
But, just like that, his career deflated. LL responded with the unexpected, and damaging, "Ripper Strikes Back," followed by Canibus's underwhelming debut LP, Can-I-Bus (1998). A string of dismissed follow-ups have been released in his debut's wake, yet none have connected, leaving the once-in-demand MC confined to the music industry's "obscure" section.
That doesn't mean the guy can't still spit, though. Even though his string of indie albums haven't made much noise, they're all packed with 'Bis's traditionally intricate rhymes, bars packed with obtuse conspiracy theories, multi-syllabic wordplay and fascinating trips into science fiction. That's all present on his ninth, and latest, solo effort, C of Tranquility, which was released independently yesterday on Interdependent Media.
There was once a time when new Canibus verses were met with tons of excitement, causing listeners to comb through the lines for memorable punchlines. Does C of Tranquility warrant such a close listen? XXLMag.com sat with the LP and selected the album's best lines. You decide whether Canibus still has it or not.
1) "I'm back, before Lil Weezy knew how to rap/When T.I. was still hustlin' crack, I put the muscle in rap/'100 Bars,' who fuckin' wit that?" —"Capt'n Cold Crush"
2) "Conspicuous characters creep through America with a killer chemical in a canister called 'Canibus,'" —"Salute"
3) "Forced to start from scratch, to rhyme from the heart when I rap/Looking forward to not looking back," —"Golden Terra of Rap"
4) "Seek and destroy the muthafuckin' beat mission/The rudeboy rasta on 'roids trippin'," —"Golden Terra of Rap"
5) "Double-shot glass of Absynth, still spittin' fantastic/You an absent has-been, I'm still rappin'," —"Golden Terra of Rap"
6) "The golden era of rap will always be a part of me/The future talks to me because the present is ignoring me," —"Cingularity Point"
7) "You can never be the best, until you complete the competency test with rap pattern parameters I set," —"Good Equals Evil"
8) "My rap style will always be in its prime/You rhyme for yourself, I rhyme for mankind" —"Worthlessness Purpose"
id="210″]