Raekwon, The Making of "Only Built 4 Cuban Linx…"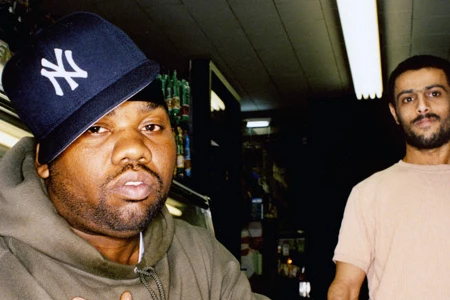 Raekwon: When we sat down and did "Striving for Perfection," we knew how important the intro to an album is. We were coming in as young, scrambling niggas. We had visions—goals and dreams. And when we was saying certain things, shit was relating to niggas' lives for real. But at the end of the day, we was just trying to let it be known that, Yo, we gonna do this and we ain't gonna stop. If we fall off, we fall off. But if we get on, this is only the beginning. It was just something like, Yo, if this shit don't work right here, gotta go another route. Probably gotta go get on some robbin' some bank shit. Some ol' other shit. So, we felt like we was just striving to get recognized in the game as those dudes that really repped the streets hard. And basically let niggas know: We will be rich in the next year—I guarantee you that.
RZA: The theme of the album is two guys that had enough of the negative life and was ready to move on, but had one more sting to pull off. They're tired of doing what they doing, but they're trying to make this last quarter million. That's a lot of money in the streets. We gonna retire and see our grandbabies and get our lives together
Being that Rae and Ghost was two opposite guys as far as neighborhoods was concerned, I used John Woo's The Killer. [In that movie] you got Chow Yun Fat [playing the role of Ah Jong] and Danny Lee [Inspector Li]. They have to become partners to work shit out.
Mostly everything [of the spoken interludes] is from The Killer on that album, that or personal talking. I met John Woo that same year. He sent me a letter. He's honored that we did it. I felt confident we could settle anything that came up. You can usually settle that shit. It's part of the budget, man. But John Woo didn't want nothing, never no money for that. We actually became friends, he took me and Ghost to lunch and dinner many times. He gave me a lot of mentoring in film.
Method Man: In RZA, you got a guy that watched karate flicks most of his childhood. He has that type of mind; his imagination is crazy. So when he put those [early Wu] albums together, he was like a kid in a candy store—like, Now I can finally make my own karate movies. So when the solo albums dropped, mine took up where Wu-Tang left off, so it was good for me to come then. Dirty's still had the kung fu element, but it was more twisted; it was like screwed music because it was seen through Dirty's eyes this time. When Raekwon's album came, since he was on some mobster shit, that's how the nigga structured his album. Every gangster movie he could find, every quote—it's like the way he put that album together.
2. "Knuckleheadz"
Feat. Ghostface and Golden Arms
Raekwon: That's a track where we runnin' around we doing what we do, getting' paper. We smackin' niggas up. The beat just had us feeling like, "Who the knucklehead wanting respect?" That was just one of them tracks where we felt like we just got finished robbing a bank and we got home and broke that money up. See this knucklehead nigga, try to get slick with that paper: "One for you, two for me." It's like, "What are you, stupid? Tom-and-Jerryin' me, nigga?"
RZA: My idea was besides them rapping the verses, after they talking all this brotherhood shit, they splitting the money up and he cheating them. The idea is that U-God gets killed in "Knuckleheadz." It's like a movie. One dies, two others go on. To me, the album is a movie and shit. You get to hear U-God come in. After that song, I had to give Rae a few back-to-back solo joints.
U-God: I was like two days out of prison. I just came out the penitentiary. I'd just come home on [Wu-Tang's debut album, Enter the Wu-Tang] 36 Chambers, too. I did two years in prison. I came home on parole–work release right before the first album was done. That's why I'm only on two songs on the first album. Then I got violated. Knucklehead cats out in the world, you know how we do. So I got violated for another eight more months. Then I came back home and got on Rae and Ghost's album. When I did my verse for "Knuckleheadz," it was a come-up time, everybody trying to come up and get into the game. I ain't get a chance to do my vocals over. When I did that, I got locked back up again.
Raekwon: "Knowledge God" was a serious story that I wrote. It's like I'm sitting down and writing a letter, but it folded out into the crime scene of what we was gonna do. I was talking about going to go hit up a real nigga, a store owner like Mike Lavonia—them niggas that be having money in the hood and they be trying to stay out of the way of the tough guys. But at the same time, he still hold his ground because he got business out here in these streets. [He's thinking], I'm not gonna be intimidated by y'all young boys, but at the same time I know some of y'all young boys might be scheming. That's where that character came from.
In them early '80s, cocaine was a rich-nigga high. So if you was doing that back in the day and you had knowledge of self, you was a sharp nigga to us, 'cause that was the sign of the times then. But nobody never said nothing about it…. [The sniffing at the start of the song] just happened. That was a part of the take. When I did it, it wasn't like we knew that was gonna be a part of the track…. I just did it on some [makes sniffing sound]. You know, a nigga don't gotta yell to hear the mic. A nigga could do another sound to hear the mic. So that happened to come out. I felt when I was sitting down writing that drug paraphernalia rhyme, that I could've been a nigga on it like that at that time. We could have really been getting skied up, going to get this nigga after that. So, it matched perfectly. But that wasn't like we was sniffin' [coke in the studio] or no shit.