Kanye's Tweets Decoded: What's He Talking About?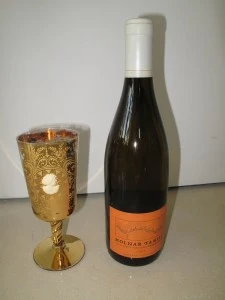 KANYE TWEETED: Molnar Poseidon's Vineyard Chardonnay: "Sipping Molnar Family Poseidon's Vineyard Chardonnay in the middle of the day sidebar out of gold cups for whatever that's worth."
DECODED: The river at Poseidon's Vineyard in Northern California tastes like salt at high tide—a constant reminder of it's proximity to the sea.
In Greek mythology the god Poseidon was the ruler of the sea, storms and earthquakes. Much like 'Ye, Poseidon keeps the seas calm until offended or ignored when he strikes the ground with his trident causing shipwrecks, storms, and quakes. In hopes of safe travels, many sailors drowned a horse or two as a sacrifice to Poseidon who is often depicted as being drawn by four horses. Speaking of horses… KANYE TWEETED: Maybach Music: "William Tell Overture by Andre' Rieu… Maybach Music!!!"
DECODED: According to Kanye, "Kings need horses." His chariot of choice is the Maybach that he's known to ride around in. If you've If you've ever seen an episode of the Lone Ranger you've heard the horse-galloping anthem of the William Tell Overture, so it's only fitting that with a maximum output of over 600 horsepower, this is indeed Maybach music.
KANYE TWEETED: "Thoughts is Napoleon"
DECODED: Is there any surprise that Kanye would liken himself to this powerful leader? In his hey day, Napoleon ran everything but wasn't quite album to capture Egypt. Kanye was spotted paying tribute to King Tut at NYC's Discovery Times Square Exposition exhibit of the famous boy ruler in early July. 'Ye's been rocking that huge chain of Horus, the greatest god of Ancient Egyptian religion. In a time when kings were regarded as gods on earth, many in Egypt became known as the physical manifestation of Horus in life and Osiris in death.
KANYE TWEETED: "Man when you take #BABYMAMAJETS there's no stuartist"
DECODED: This could be some obscure allusion to Scotland's House of Stuart, an important royal house… but then again, maybe we're just taking these analogies too far? —Brooklyne Gipson