Majesco Entertainment Debuts NBA Baller Beats at E3 2012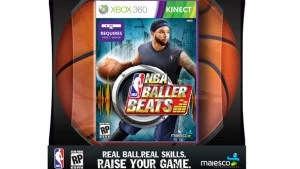 Sports gaming has been taken to a new level by the developers at Majesco Entertainment. The NBA Baller Beats game for the X-Box 360 Kinect was debuted at E3 on Wednesday (June 6) and it shows promises of changing the landscape of sports gaming with its spectacular intersection of sound, movement and skill.
Majesco Entertainment, with help from HB Studios, has developed an engine that not only utilizes the human interactive motion sensor technology of the Kinect but also tracks the movement of a physical basketball. Yes, NBA Baller Beats is the first basketball title to use an actual basketball, which is packaged with purchase, during game play. And not just any basketball—it's an official NBA Spadling basketball. NBA Baller Beats is officially licensed by the NBA and features all 30 teams.
Part DJ Hero and part X-Box Sports Champions, NBA Ballers challenges players to dribble on beat while executing moves like crossovers, shot fakes and pass fakes. In DJ hero fashion, a musical "track" is audible to players who must "hit" moves to keep the track playing fluidly. NBA Baller Beats has 30 different tracks by artists ranging from Kanye West to Diplo with each song set at various skill levels according to tempo and speed. Players must choose a track and one of 30 different courts to get their handle on.
The game has been described by the folks at Majesco as "easy to pick up right away…but it's tough to master". NBA Baller Beats is highly addictive and just plain fresh in a market full of sports simulations or surrealistic arcade-style sports gaming.
Users won't need to worry about the surface they play on, either, because the game responds as well on carpet as it does on hard floors. The playable demos were all placed on carpet to dismiss the notion that the game needs the hardwood to be effective. Street ball legend The Professor, formerly of the AND 1 tour and current Ball Up star, demoed the game and said "it's one of the best basketball games I've ever played."
Professor wasn't the only one to endorse the game; NBA All Star Deron Williams was brought onto the Majesco Entertainment stage to play the game as well. Williams, who will grace the cover of the title, dazzled the large crowd as he "hit" several moves in a row. "It teaches you how to play the game…It teaches you how to have good ball handling skills no matter skill level set," Williams told the crowd during the demo. "It teaches good fundamentals…you're taught at an early age to look up when you dribble and the game makes you do that."
NBA Baller Beats will be available September 11th, 2012 so game enthusiast should be sure to reserve their copies now at gaming retailers.—Eric Montgomery