Rampage Jackson Discusses Last UFC Match, Reebok ATV 19+ and Three 6 Mafia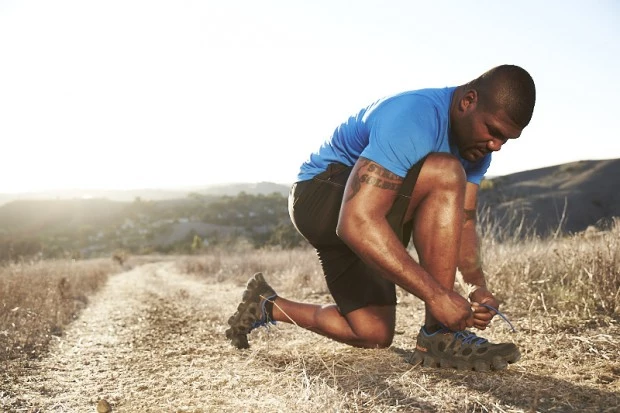 Speaking of having your back, big shout out goes to Reebok who you've lined up with for this new shoe here: the ATV19+.
Yeah, they have my back big time.
What were some of the features that were important for you to have in this shoe?
You know what, they had the shoe ready when they came to me. When I first saw the shoe—I'm into technology and stuff—I was like, Man that's a crazy looking shoe. I was real curious about trying them on and seeing what they could do, that's the type of person I am. When I tried them on, I instantly liked them as soon as I took [the first] couple steps and said, whoever invented these shoes was a genius. How do you feel, you're wearing them right now?
Well, it's the same feeling you explained. On the first look I was skeptical, but after I slipped them on I didn't want to take them off.
Yeah, they're very comfortable.
I saw you training, running back and forth, with them—you can't really do that with any and every running shoe.
Nah you can't. You can't even hit pads with a lot of training shoes but with these you can do anything. I've gone in some crazy places with these on.
Craziest place?
The craziest place I've gone with them on was this swampy, wooded area with a lot of muddy water.
So they're also durable.
Very durable. They could go. I didn't care that it was muddy water because come on they gave me [the shoes] for free. [Laughs] You know how sometimes you'll get a brand new pair of shoes and you'll be like, I ain't running in that! But, these shoes are made for that. They do good work.
I saw the physical training but how do you mentally prepare for these fights?
This fight is very mental. The biggest thing I do is visualize. I visualize me winning, the referee holding my hand up [in victory], me and my teammates celebrating after the fight. In this life, you make your own reality and a lot of people don't know that. If you believe strong enough and really stay positive, you can pretty much make your own reality and that's what I try to do.
Does that get hard at times?
Sometimes.  Sometimes it's hard to do that but what I do over and over is visualize myself winning. When I do it right, I win.
I know you're a hip-hop head. Who are you listening to now in preparation for this fight?
I've been listening to a lot of DMX for this fight. DMX is real man.
How do you feel about Juicy J's resurgence?
I've been off the grid for a minute because of training but I just noticed that his song "Bandz A Make Her Dance" isn't with DJ Paul. What's going on?
They're cool man, just focusing on their solo careers.
Oh okay that's good.