Summer Jam 2012 Recap: Nas, Lauryn Hill, Rick Ross and Young Jeezy Dominate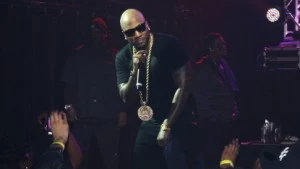 Before French segued into Rozay's performance, though, fans were treated to solid sets from Young Jeezy and Big Sean.
In all black everything, Young Jeezy—clad with some gaudy gold chains—threw a gangsta party for the packed stadium, as he tore through what almost seemed like an endless catalog of hits without ever taking a real break. Entering the stage to "Who Dat," his riotous banger off 2008's The Recession, and then into everything from "Put On," "Lose My Mind," to "Bottom of the Map," "Soul Survivor" and more, Jizzle kept the momentum going as he later brought out T.I. for LoveRance' "Up" remix, Ne-Yo for "Leave You Alone" and 2 Chainz for "SupaFreak."
Jeezy's set, arguably the best of the night, was a hard act to follow, but Big Sean definitely gave it a honest effort.
Coming from only performing on the festival stage last year, Sean hit the main stage with his verse of Chief Keef's "I Don't Like." After performing "My Last," Sean announced that he wanted to introduce the crowd to the person who made it all possible. With that, a large portion of the crowd stood to its feet, perhaps with expectations of Kanye West. Instead, it was Big Sean's mother. From there, Sean—now rocking a robe—dived into "Marvin & Chardonnay," before bellowing to his DJ, "I want you to play something that's gonna get 60,000 muthafuckas on they feet." Soon after, "Mercy" blared throughout the speakers in the stadium as Pusha T and 2 Chainz graced the stage for their verses.
After the performance, Mr. T.R.U REALigion held court and asked the packed house, "If you fucking with my campaign say Tru!" From there, "Riot" turned up the crowd and right after, Sean returned to close his set with his double-platinum smash "Dance (A$$)."
Before all that, Maino opened up the mega concert, getting the crowd into the six hours of music that was scheduled in front of them, bringing out Swizz Beatz for "Million Bucks,"  A$AP Rocky for "Street Knock," and M.O.P. for "Ante Up."
Slaughterhouse performed records like "Hammer Dance" and "My Life," with Joe Budden boasting, "You're lookin' at four of the best rappers in the muthafuckin' universe!"
Waka Flocka Flame got things amped with "Hard in Da Paint," "I Don't Really Care" and "No Hands" with Wale. The MMG rapper would remain on the stage for his own set, which included "Bait," "Chain Music," "Sabotage" and "Lotus Flower Bomb" with smooth crooner Miguel.
J. Cole hit the stage throwing up the Roc's diamond, tearing through hits like "Nobody's Perfect," "Work Out" and "Can't Get Enough" with Trey Songz.
At one point during the concert, Victor Cruz, wide receiver of the Super Bowl Champion New York Giants, hit the stage and welcomed fans to his house.
Despite the Nicki Minaj debacle, which was dominated the Monday morning headlines from Summer Jam, this year's annual installment was a hit.—Ralph Bristout and Mark Lelinwalla