Rick Ross Signs Endorsement Deal With Reebok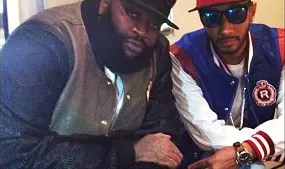 Seems like Rick Ross will be trading in his "Red Bottoms" for a pair of Reeboks.
On Wednesday (March 14), it was revealed via Twitter that the Bawse officially signed an endorsement deal with famous sneaker brand, Reebok. "I would like to welcome my brother Rozay to the Reebok fam! #Bopeboyfresh! Watch the move we about 2make!," tweeted fellow Reekbok advocate Swizz Beatz. "The ink is DRY now it's time to fly!," Swizzy later tweeted.
The new partnership finds Ross—who'd been hinting at the deal by means of his Tumblr page's various Reebok uploads— joining the likes of Swizz Beatz, Tyga, and more. In fact in was just Tuesday night (March 13) that he brought out Swizz as a special guest during his MMG headlining concert Tuesday night (March 13) at New York City's Hammerstein Ballroom. The duo also previously worked on the auspicious, "Reebok Back" single last summer, which remixed Meek Mill's anthemic single, "Tupac Back."
Stay tuned to XXLMag.com as more information arises on Rozay's Reekbok endorsement deal.—Ralph Bristout