Web Candy of the Week: Malea Jae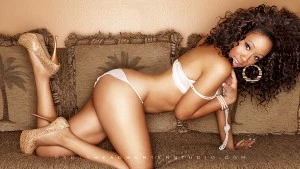 This Miami model was referred to us by Jay Kellz, "the lady killer," who featured her on G-Unit comedian Jack Thriller's website. Malea Jae is a video model who has done videos for everyone from 2 Chainz to Bobby V, and she took a few minutes of her time to talk to us about starring in the video with 2 Chainz, her crush on Drake, and why she'll be able to fix a broken heart…
On what inspired her to strike a pose…
Modeling has always been my dream—even as a little girl, I knew that it was something that I always wanted to do. I remember looking at magazines when I was younger and always hoping that one day that would be me. Overall I am just a very fun, loving, outgoing, spontaneous and motivated individual. I am thankful to be in this beautiful city where there are endless opportunities and I plan to take advantage of them.
On working with 2 Chainz & Bobby V…
I have done music videos for Bobby V ("Outfit"), Red Cafe, and I recently shot a video for 2 Chainz and Noreaga. My best celebrity experience was probably meeting 2 Chainz—I'm such a fan of him (even though I couldn't show it) but he was very down to earth. The video was shot at a basketball park and everybody in the neighborhood came out to see him, and he was so cool by playing basketball with some of the little boys from the neighborhood.
On her celebrity crush…
I have a huge crush on Drake. I'm not sure why—I think it's the fact that he's not afraid to express his emotions in his songs.
On why she's not just a pretty face…
I am a registered nurse during the day, and then I bartend and cocktail serve on the weekends. I am a mix of both beauty and brains, and I have always been independent.
On what a man has to do to snag her…
He has to make me laugh first and foremost. So a good sense of humor is a must. He has to be honest, hardworking, caring and goal oriented. I love a man that smells good, tattoos are a plus and I like either a fresh cut or neat dreads. —Bernadette Giacomazzo (@bgiacomazzo)