EYE CANDY: Shakur, Rockin' With the Best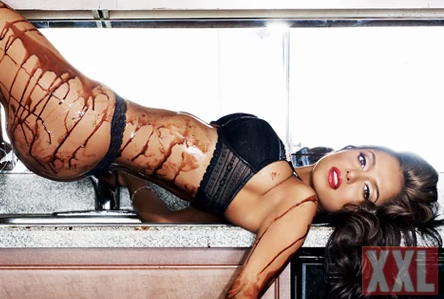 With the visual for Drake's "Best I Ever Had" having been so anticipated, it was expected that director Kanye West would enlist nothing less than premium beauties for Drizzy's supporting cast. The busty pack's standout, though, is California angel Shakur: a real-life Egyptian doll with a personality as gangsta as her anime curves (34DD-23-36). The former commercial child model is from the West, her strongest passions are music and theater, and she owns the birth name of a hip-hop demigod. No wonder all eyes are on her.
Were you the only model that didn't have to try out for the video?
Yeah. Kanye called me and said he was shooting the video. He said, "You do your acting thing, [so] it would be dope for you to do." He told me the treatment, and it wasn't the typical "video-girl" role. I knew the record was the most-anticipated video.
How did you land the most lines in the video?
We were on set, and 'Ye pulled me to the side. [He said,] "Drake, you're an actor. Shakur, you're an actress. Improvise the shit." Drake came from Degrassi, [so] it's easy when you have natural talent next to you.
Double D's don't hurt either. Are you 100 percent real?
People think I have all fake body parts. [This is] all my hair, all my everything. I take it as a compliment, like, "Wow, you think I look so good that I have to be fake?"

You come from a traditional Egyptian family, where your mom is very submissive. Are you the same?
Absolutely. I feel men should be honored like the kings they are. I don't use that term loosely. A real man deserves to get treated like a king. It's the 21st century, and I'm all for women's rights, but I personally believe that it's a man's world and women are created to keep men company. She's supposed to be able to learn from him, take from him and have that security blanket. That's what life is about.—Bonsu Thompson