What's Gonna Happen to Game?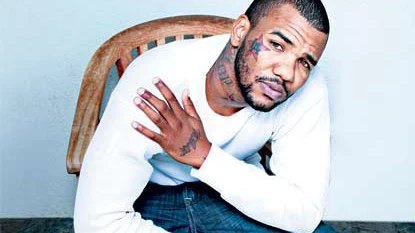 I like Game. I didn't start off as the biggest fan of the West Coast rapper, in fact, I used to hate on him, big time. All the name dropping, and the beef with 50 really turned me off (II). Constantly covering him in the news, there was a point where every day my man was saying something contradictory. But then I met him and I must say, he's up there with one of the nicest MCs. He's funny, relatable, charismatic and he's definitely got star power. After we chopped it up a lil bit, did a lil one two thing with the push ups (watch here if you missed it), I started to really like dude (II). Then he dropped his Red Room mixtape with us, and I had a handful of joints on repeat. Serious repeat. "It Must Be Me" is a certified banger for real.
Anyway with Chuck Taylor's new double disc mixtape, Purp & Patron dropping earlier this week I can't help but wonder what's gonna happen to dude? The R.E.D. Album has been pushed back so many times now that it's beginning to look bleak. It's no secret why he keeps on putting out these tapes, but is his label listening? Game still has an insanely loyal fanbase. I mean when we asked what album readers were most anticipating for 2011, the man won hands down, beating out Dr. Dre, Jay-Z & Kanye, Lil Wayne, Young Jeezy, Drake and Lupe Fiasco. Wow.
Is that enough information for Interscope or Aftermath to put out his album or does somebody have to stage a protest a la Mr. Fiasco?
What do ya'll think? Is the game over yet? What more does he have to do to get a release date? —Jesse Gissen