Why Can't Women in Hip-Hop Get Respect? I'm Not Your Vixen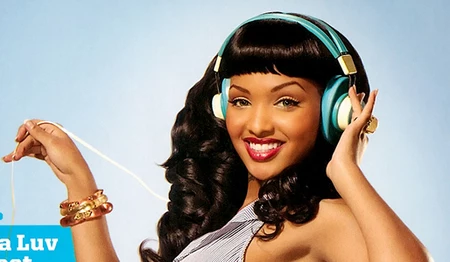 Every Monday afternoon, as part of my weekly intern duties, I sit at my desk and weed through an unfathomable amount of future Web Candy submissions sent to the office at XXLWebCandy@harris-pub.com only to find myself saying, "Hell, no! Hell, nah! and Oh, hell, NO!" On occasion, I come across some chicks that actually look like something you guys and my boss will appreciate, but the one thought always crosses my mind: "Is this the only thing girls think they can aspire to be in this industry?
Now don't get me wrong, the girls that take modeling seriously can use XXL's Web Candy as a catalyst to launch their career, but for the ones who just like to run around the house taking pictures of themselves naked assuming they look cute… Puhleeze! This can't be their end all, be all life dream, right?
Again, that's no hate, just a thought. Another one that often comes to mind is: "Maybe these girls are on to something and maybe women in hip-hop don't have any other choice. I mean, women all get turned into eye candy and viewed as sex toys as soon as we step foot into an "industry event," no matter who we are.
I know most of you are more than familiar with XXL's Freshmen Class, and most of you attended or at least remember some highlights from the 10 Freshmen for '10 concert a few months back. Well, I was working backstage at the show, making sure all artists were taken care of and where they were supposed to be when they were supposed to be there. After spending at least four hours with the artists I was bound to make new friends, but some wanted to be a little more "friendly" than others. I'm not about to name names 'cause I'm not a snitch (tee hee) but as the night progressed I guess he felt I was just some groupie chick but even though I was bustin' my ass to make sure everyone was taken care of and comfortable, the "comfort" he was hinting at wasn't part of my job description.
Hmmm, thanks for the compliment [sarcastic face], but it's not going down. Under normal circumstances a guy might get a nice right hook and knee to the groin for crossing the line with me, but in that scenario my reaction had to be contraire because I'm a woman in hip-hop. I couldn't just flip out because then I would be a "bitch" that nobody would like to work with. But accepting someone's offer for "comfort" is just as bad, because then I'd wind up labeled as the XXL slut. I also couldn't just run to my boss and cry about it because then I'd just be that young chick that can't handle herself in this industry.
What's a girl to do?
The point this story is I'm a young, educated, career woman in hip-hop, but for whatever reason, some (or most) men in this industry want to view me [and every other girl] as tomorrow's sex toy. I know I'm far from ugly, but have some fucking respect! That's all that any woman, regardless of profession or body type, wants. So to all the girls that have no experience, or no real passion for modeling as an actual career, nor the talent—just because your mother told you so doesn't mean you actually have the talent—I want you to want more for yourself.
Please!
'Cause if prancing around scantly clad—that means dressing in a whorish way—everyday is how you plan to make a living, we might need to have a talk. Better yet, keep those dreams and keep sending those pics in because if you don't believe me the commenters on XXLMag.com tell it like it is. So if your not up to snuff, trust me, they'll let you know. —Amber Mckynzie